The 2023 MAZDA CX-30: Small in Size but Big in Thrills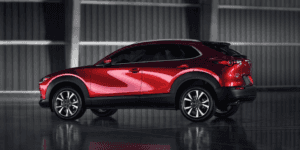 Just because you ditched the sporty coupe for a family-friendly subcompact SUV doesn't mean you can't have a whale of a time. The 2023 Mazda CX-30 extends the opportunity for you to seek thrills behind the wheel —even with your teen riding shotgun. This new Mazda model is available at our Wilson Mazda dealership. Visit Medlin Mazda to learn about this pleasant new addition to the Mazda inventory.
The 2023 MAZDA CX-30 Performance and Interior
Although subcompact in size, this new Mazda model can fill a tall order. Our Mazda dealers in Wilson welcome you to experience this vehicle's comfort and sensational performance. This model's burgeoning start has Mazda shoppers hopeful for what the 2023 version has to offer.

Expect two powertrains of your choosing. The 2023 Mazda CX-30 will come with a standard 2.5-liter four-cylinder engine rated at 186 horsepower. Paired with a six-speed automatic transmission, you'll relish the rush of handling this vessel. Dabble with the turbocharged variant of this engine that delivers 250 horsepower to see if the latter coalesces better with your performance desires. With a test drive, get a sense of its precise steering and firm suspensions.
When you see our Mazda dealers in Wilson, tour the upscale interior to delight in the opulent cabin that's built with top-grade materials.
If a near-premium interior and a sporty drive make up your next new model, inquire about the 2023 Mazda CX-30.
The 2023 MAZDA CX-30 Safety and Technology
With technology only moving forward, you'll find a host of today's standard safety equipment at your fingertips when you finance the 2023 Mazda CX-30.
Get the standard pedestrian detection, forward-collision warning, automatic emergency braking, and lane-keeping assist among other gadgets. Other nifty equipment, such as the surround-view parking camera, reverse automatic emergency braking, and traffic jam assist come available for those pining for the bells and whistles.
Personalize your next new Mazda car your way. Special technology features include a moonroof, an 8.8-inch display screen, Apple CarPlay®, Android Auto™, and Bluetooth® connectivity. While these come standard, a wireless charging pad for dire times and a Bose® audio sound system for your soundscape needs come optional.
Buy a 2023 MAZDA CX-30 Today
You can hang your hat on the stylish and sporty 2023 Mazda CX-30. It's loaded with a generous array of safety and special technology equipment, keeping you with the times. In the throes of car shopping, simplify your choices without settling for less. The latest Mazda CX-30 is a strong contender in a market teeming with subcompact SUVs. Learn more from our Mazda financing professionals about a car loan.