MAZDA Models by MPG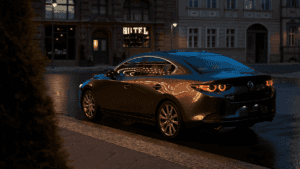 When you are looking for cars with the best gas mileage you can't go wrong with new Mazda cars and SUVs. And who wouldn't like to save a little at the pump right now? So, we're highlighting a few of the most fuel-efficient models at Medlin Mazda.
What are the Mazda Cars with the Best Gas Mileage?
Efficiency and Mazda cars go hand-in-hand. You won't find a vehicle on our lot that doesn't boast impressive gas mileage.
Here's a snapshot of the EPA-estimated mpg ratings for our Mazda models. Keep in mind that these numbers can vary depending on your engine choice.
2022 Mazda3 sedan: 36 mpg highway/28 mpg city
2022 Mazda MX-5 Miata: 35 mpg highway/26 mpg city
2022 Mazda3 hatchback: 34 mpg highway/26 mpg city
2022 Mazda CX-30: 31 mpg highway/24 mpg city
2023 Mazda CX-50: 30 mpg highway/24 mpg city
2022 Mazda CX-5: 30 mpg highway/24 mpg city
2022 Mazda CX-9: 26 mpg highway/20 mpg city
Is There a MAZDA Hybrid Model?
Good news if you're looking for the ultimate in efficiency: the Mazda MX-30 EV is here. It's a sleek crossover that utilizes all-electric power.
In all, it delivers an impressive 100-mile range when fully charged. You can conveniently charge at home anytime and have access to a leading charging network on the go, so you can leave any charging anxiety in the dust.
How Can I Increase My Fuel Efficiency?
Even with notable fuel efficiency, there's still a multitude of ways that you can affect your gas mileage. Keep these tips in mind to get the most out of your next fill-up.
Avoid idling
Keep your tires properly inflated
Schedule routine maintenance
Drive with caution
Looking for a more fuel-efficient vehicle? Visit our Mazda dealership in Wilson, NC to shop our new Mazda models today!