MAZDA Models with the Most Cargo Space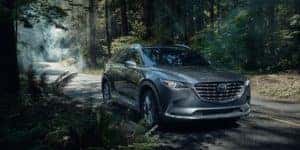 The next SUV you buy should have the right amount of cargo space for your needs. If you're looking for more cargo space, then there are plenty of Mazda SUVs to peruse.
Do you know how much interior space each of the Mazda SUV models have? Read it on to find out more!
Cargo Space in Each MAZDA SUV
With enough cargo space, stowing away luggage, groceries, and other equipment becomes easier. The goal with any cargo space is to increase comfort and convenience.
Here are the cargo space numbers from popular Mazda models.
2021 Mazda3: The Mazda 3 hatchback cargo space features 41.7 inches of legroom in the front and 35.0 inches in the rear.
2021 Mazda CX-30: Features up to 45.2 cubic feet of cargo space with folded 2nd-row seats.
2021 Mazda CX-3: Boasts 17.8 cubic feet of cargo room behind the rear seats. This space increases to 42.7 cubic feet with folded 2nd-row seats.
2021 Mazda CX-5: Has 30.9 cubic feet when all seats are upright. With folded 2nd-row seats, the cargo space increases to 59.6 cubic feet.
2021 Mazda CX-9: Features 14.4 cubic feet when all rows are upright. The cargo space increases with the folding of each row of seats. Folded 3rd-row seats increase the cargo space to 38.2 cubic feet. With all rows folded, the space increases to 71.2 cubic feet.
Buying a New Mazda SUV
We invite you to experience the spacious cargo space of each Mazda model. Come down to Medlin Mazda today. We will match with a Mazda SUV that best suits your cargo needs. See you soon!