MAZDA Service 101: Changing a Tire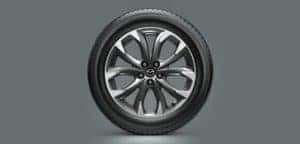 A flat tire is never a welcome sight. However, if you know how to change it, your flat turns from a disaster to an inconvenience. Our Mazda service technicians at Medlin Mazda can walk you through the steps of changing a flat.
Setting Up
Before you begin, you want to make sure that it is safe for you to change your flat. Are you a safe distance from traffic? Are you on even ground?
If so, set out a reflective warning triangle and turn on your hazard lights to warn other drivers.
The Equipment You Need
You also want to make sure that you have everything you need to change your tire.
Spare tire
Vehicle jack
Lug wrench
Flashlight (if needed)
Hazard cones (optional)
Step-by-Step Instructions
If you've determined it's safe to change your flat tire, and you have all the equipment you need, it's time to proceed.
Loosen each lug nut from your tire, but don't remove them. (Note: this could take quite a bit of force.)
Using your jack, raise your vehicle approximately six inches from the ground.
Remove your lug nuts and your flat tire.
Put your spare tire on and reattach your lug nuts.
Using a star pattern, carefully tighten your lug nuts. This pattern helps to ensure your tire is attached evenly.
Lower your vehicle and tighten your lug nuts again.
Remove your jack and pack up all your supplies, including the flat tire.
Replace Your Tire
Once you've changed your flat, it's important to order a replacement. Our Mazda dealership serving Rocky Mount, NC is happy to help ensure you get the tire you need and can even install it for you. Need a new tire? Reach out to our team today!