MAZDA Service Tasks You Should Never Do Yourself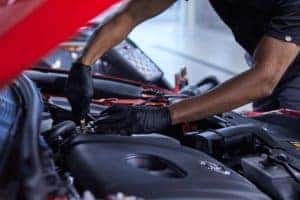 There are simply some Mazda service tasks you shouldn't try to complete yourself. Mazda vehicles feature advanced features and cutting-edge technology that often requires specialized equipment. Our technicians at Medlin Mazda recommend you don't try to complete these tasks and consult an expert instead.
Mounting Tires
We strongly encourage every driver learn how to change a flat tire on their own. You never know when you might be faced with a flat.
However, when it comes to mounting the new tire on your rim, that's a job that should be completed by a professional. This requires special tools that you may not have.
Changing Your Oil
We're guessing you've checked your oil dipstick once or twice. You may have even noticed the level was low and refilled it. This is beneficial when you're in a time crunch.
However, it's critical that your oil isn't simply refilled occasionally. Old oil can seriously diminish your vehicle's efficiency and should be drained completely and refreshed by a licensed professional.
Electric Repairs
New vehicles are continuously evolving and so are their systems. If you are attempting any electric work, it's important that you understand every aspect of this intricate system woven throughout your vehicle.
Technicians are specially trained to know the complexities of a Mazda vehicle inside and out and can ensure the work is done precisely and safely.
Bodywork
Let's face it – a new Mazda vehicle is a stunning work of art. Do you really want to risk ruining it with a less-than-perfect replacement job? The process of replacing parts can be complicated and painting is best handled by an expert for a clean coat.
When you need quality Mazda service and repairs, trust the experts at our Mazda service center in Wilson, NC. We'll get your vehicle back to new in no time.